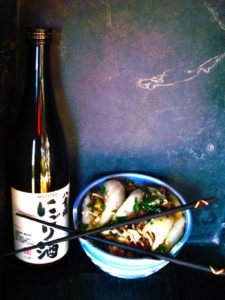 The stir fry is brilliant, they're quick and great as leftovers for lunches all week. Until I made my own from this week's CSA box I avoided vegetable medleys. So often they are overcooked and overcomplicated. I like carrots with carrots, greens with greens… but everything goes well with garlic noodles. Here's a recipe to try. Adapt it to your preferences. It's an excellent way to eat from the fields. We may make stir fry into a weekly theme night. The kids love to try chopsticks. We like to try the Sake.
Ingredients:
4 Tbsp Toasted Sesame Oil
4-6 Cloves of Chopped garlic
1 package of noode (Buckwheat, Soba, or Kelp work well)
1 tsp fish sauce
1 Tbsp Soy sauce
1 head of Bok Choy cut 1/4 in thick diagonally
1/2 head green cabbage shaved into strips
1 bunch cleaned young turnip greens (aren't you glad you didn't throw them out)
Toasted Sesame seeds to sprinkle on top
Few shakes of garlic salt to taste
Start with pre-cooked noodles. Have them ready and set aside.
Heat the toasted sesame oil in a wok or large cast iron skillet over medium high heat until it begins to sizzle. Turn heat down to medium and fry the garlic until light toasted brown color. Immediately add noodles, fish sauce, soy sauce and cook until heated and combined. Add bok choy, cabbage, and turnip greens (or some alternative) in that order. Cook for 2 minutes. Sprinkle with garlic salt to taste. Remove from heat and garnish generously with sesame seeds.