Ventura County Star
By: Anne Kallas
Feb 4, 2012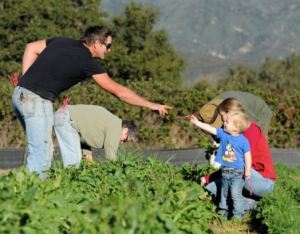 Community supported agriculture, or CSA, has become increasingly popular in Ventura County as more people look for alternative ways to buy straight from local farms, rather than relying on produce that has traveled long distances to end up on a local dinner table.
When the trend started about three years ago, farmers such as John Fonteyn and Elizabeth Del Negro of Rio Gozo Farm near Ojai and Erynn Smith of Join the Farm in Oxnard were excited about being able to sell shares of their upcoming crops directly to consumers. Over time they've learned how to better manage their planting schedules to coincide with the CSA once-per-week distribution schedule.
In a CSA, families or individuals generally purchase a quarterly share of produce from a particular farm. Then over the next few months, they receive a box of seasonal produce weekly. The cost in Ventura County tends to range from about $19 to $35. Some CSAs charge on a monthly basis.
James Scolari of Ventura has been a member of the Rio Gozo CSA for the past six months and said the change in his life — and his diet — was immediate. "The most profound immediate effect of having these organic greens is I was unwilling to pollute it with the sort of food we bought (previously). I got more intentional about meals and thinking about ingredients," Scolari said.
He said that since joining the CSA, he is averse to buying meats with hormones and antibiotics, feeling they sully his foods.
Del Negro and Fonteyn of Rio Gozo said their biggest immediate challenge is getting more land than the 3½ acres they currently farm on Old Baldwin Road. "We just need more land. The food scene in Ventura is getting hotter and hotter and we're food people," Fonteyn said. "There is interest from restaurants and on a national level that's never been as intense as it is now."
While Rio Gozo now offers about 45 farm shares, which families tend to split, the hope is to create a restaurant CSA model. "We offer surplus to restaurants if people don't want any more," Del Negro said.
They said people who have CSA shares tend to be more like family, and they offer four events a year where members can come out for a celebratory meal at the farm. "I don't know how many times people come out here to work and tell us that they were crying as they left the farm, because it has that effect," Fonteyn said.
At Join the Farm, Smith said they have learned more about crop management since starting their CSA 2½ years ago. It now serves about 100 families in Ventura County. "I think in every area, we've encountered challenges," Smith said. "In the area of field management, we're making sure we've got scheduling and planting that matches CSA numbers. We have to consider seasonal temperature fluctuations. It's been a challenge and caused us to pay close attention, which is something we've enjoyed."
Del Negro and Fonteyn said they also were challenged when they first started, noting that they had to learn to plant heavily in November if they wanted produce in February because the growing cycle slows so much in winter months. For instance, lettuce that might mature in 30 days in the spring and summer might take up to 60 days in winter before it is ready to be picked.
Most CSAs offer recipes and other tips for using the produce. Del Negro said she and Fonteyn enjoy offering recipes, photographs and other tips on their website, which they see as a perfect complement to their farm, keeping the community connected. "I love the blend of technology with what we do. They seem so opposite, but I cherish the opportunity to be able to communicate with people and not hand out pieces of paper," Del Negro said.
Scolari said he enjoys the challenge of keeping up with his weekly produce boxes and finding out about foods he's never seen. "There might be a strange squash I haven't seen or a new recipe. I'm getting food I wouldn't have thought to buy and it's challenging, but also fun to see what am I going to do?" Scolari said. "I'm so reluctant to throw food away."