A groovy little article we dug up about Rio Gozo Farm Ventura CSA. Great Recipes below.
California Country
Farmer and chef team up to produce a farm-fresh meal.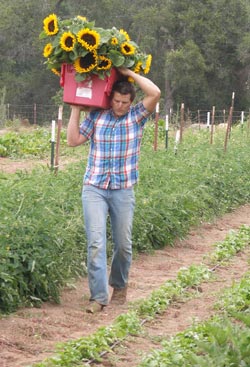 Nestled into the hills of the quiet little town of Ojai is where you'll find the Rio Gozo Farm. "Rio," which means "river" in Spanish, and "gozo," which means "joy," is run by former chef and now full-time farmer John Fonteyn. And if you watch him work long enough, you'll realize just how much "gozo" is actually flowing around these parts.
"I just love being around food," John said. "I felt that because food was a relationship I was going to have for my whole life and one that I check in with three times a day, it would be good to explore it deeper."
John gets to explore his love for food every day now across three and a half acres of various row crops at the farm. He picks and packs the produce from sunrise to sunset and has built a connection not only to food, but his local community. He operates a thriving community-supported agriculture business, delivering his harvest to homes and offices throughout Ventura County. In addition, he's struck up relationships with local chefs like Tim Kilcoyne of the SideCar Restaurant in downtown Ventura, offering them produce they may not find elsewhere and also offering them advice—from a chef's viewpoint.
John's biggest belief is that food connects people, so he jumped at the opportunity to connect with his community when Tim suggested having a "farmer dinner" at the SideCar. All of the food for the dinner comes from local farms, within 100 miles of the restaurant, and the community gets to meet the people growing their food.
"It's a way to introduce folks to their local farmers and a way to get the farmers out from behind the tents at farmers markets and in front of the public so they can shake hands," said Tim. "People really want to know where their food comes from and this is just another avenue for that."
So as the seasons change at Rio Gozo Farm, one thing remains constant: John's love of produce and people. And that's a connection that won't be broken soon—for him and he hopes for others, too!
For more information about the Rio Gozo Farm, visit John's blog atriogozofarm.blogspot.com.
For more information about the SideCar Restaurant, visitwww.thesidecarrestaurant.com.
Recipes by Tim Kilcoyne
Avocado butter
Trout with colored cauliflower
Beet cake
Grilled pork chop with pomegranate molasses and butternut squash "hash"