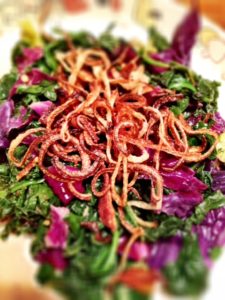 I was craving some greens, so I used everything left in the box. You could try the same thing with Escarole or Dandelion greens. Oh, my. So freaking good.
You need
2 onions sliced thin
2 cups oil
Couple slices bacon
Bacon drippings
Olive oil
1/4 cup sugar
Tablespoon water
1/2 cup apple cider vinegar
1 tsp. hot pepper flakes
A bunch of greens, use what you got, I had 2 bunches chard, kale,
purple cabbage, Savoy cabbage, and spinach
Cut out the tough stalks from your greens!
1. Fry the onions in batches in 350 degree oil. They'll be golden
brown and awesomely crispy. 2 minutes max.
2. Dissolve the sugar in one tbsp of water for about 5 minutes over
medium heat, then boil without stirring until sugar turns amber. Then
add the pepper flakes and cider vinegar and stir til the Caramel
dissolves. Cool, like a polar bear's toenails.
3. Next do your bacon low and slow til crispy.
4.Put two tbsp of bacon drippings and a tbsp of peanut or olive oil in
a large pot over medium high heat. Add half of greens and stir til
wilted, then add other half and cook until desired doneness, I like it
pretty al dente- so it took about 8 minutes.
5. Re- warm the gastrique, and pour over greens. Add crumbled up bacon
and top with crispy onions. Oh hell yeah!