Hi, my name is Raksha Boiteau,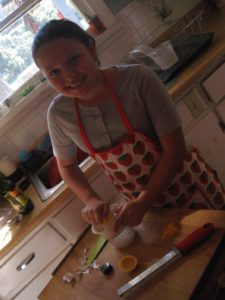 I'm 11 and I LOVE COOKING!!! I have always loved it. I am a vegetarian, and I am thinking about becoming a chef. At Rio Gozo I am learning how to prepare different kinds of fresh, delicious vegetables grown right on the farm.
You'll be seeing my post monthly as I experiment with different recipes and post the ones I like the best.
Today we made 3 broccoli dishes: Ina Garten's Parmesan- Roasted Broccoli, Seared Broccoli and Sweet Onion Salad, and a broccoli gratin with Gouda & Dubliner Cheddar cheese topped with toasted bread crumbs. They are all very easy and require pretty basic ingredients. My favorite was the roasted broccoli; here is the recipe from Barefoot Contessa Back to Basics.
Enjoy,
Raksha
Parmesan-Roasted Broccoli
Ingredients:
Servings: 6
4 -5 lbs broccoli
4 -5 garlic cloves, peeled and thinly sliced
6 1/2 tablespoons olive oil
1 1/2 teaspoons salt
1/2 teaspoon fresh ground pepper
2 teaspoons grated lemon zest
2 tablespoons lemon juice
3 tablespoons pine nuts, toasted (optional)
1/3 cup freshly grated parmesan cheese
Directions:
Prep Time: 15 mins
Total Time: 40 mins
Cut the broccoli florets from the stalks, leaving an inch or two of stalk attached to the florets.
Cut the larger pieces through the base of the head with a small knife, pulling the florets apart. You should have about 8 cups of florets.
Place the broccoli florets on a sheet pan large enough to hold them in a single layer.
Toss the garlic over the broccoli and drizzle with 5 tablespoons of the olive oil. Sprinkle with the salt and pepper.
Roast at 425*F. for 20 to 25 minutes, until crisp-tender and the tips of some of the florets are browned.
Remove the broccoli from the oven and immediately toss with the lemon zest, lemon juice, pine nuts(optional), and Parmesan. Serve hot.