Eggplant Cutlets with Melted Mozzarella and Oregano
Ingredients:
1 Eggplant
1 Tomato
1 Large Zucchini
Basil
For the breading:
Bread crumbs, flour, red pepper, salt and pepper, eggs
Oil (coconut or vegetable oil for frying)
Mozzarella cheese sliced
Oregano for garnish  
Preheat the broiler.
Prepare your vegetables by slicing in rounds 1/4 in thick. Set aside
Prepare your breading by mixing ingredients in three bowls: one bowl flour, one bowl bread crumbs, salt, pepper and red pepper if you like, and the third bowl is your whisked eggs.
Prepare your frying pan with the oil- use a high temp oil like coconut or vegetable (about 1/4 cup). Heat  the oil to hot but not smoking. Test the pan by dipping a little piece of veggie in it. It is ready when it is sizzling.
Bread the eggplant and zucchini by dipping in this order:  flour, egg, bread crumbs. Place gently in the hot oil.  Cook till brown and tender. Remove from the heat and place them on a plate covered in paper towels to drain.
When cool to touch, assemble your stacks on a baking sheet. Bottom layer eggplant, next tomato and basil, top layer zucchini. Cover with sliced mozzarella and put under the broiler to brown and bubble. Watch it carefully, remove and garnish with oregano.
side note: sometimes I add a fourth layer of fried polenta on the bottom.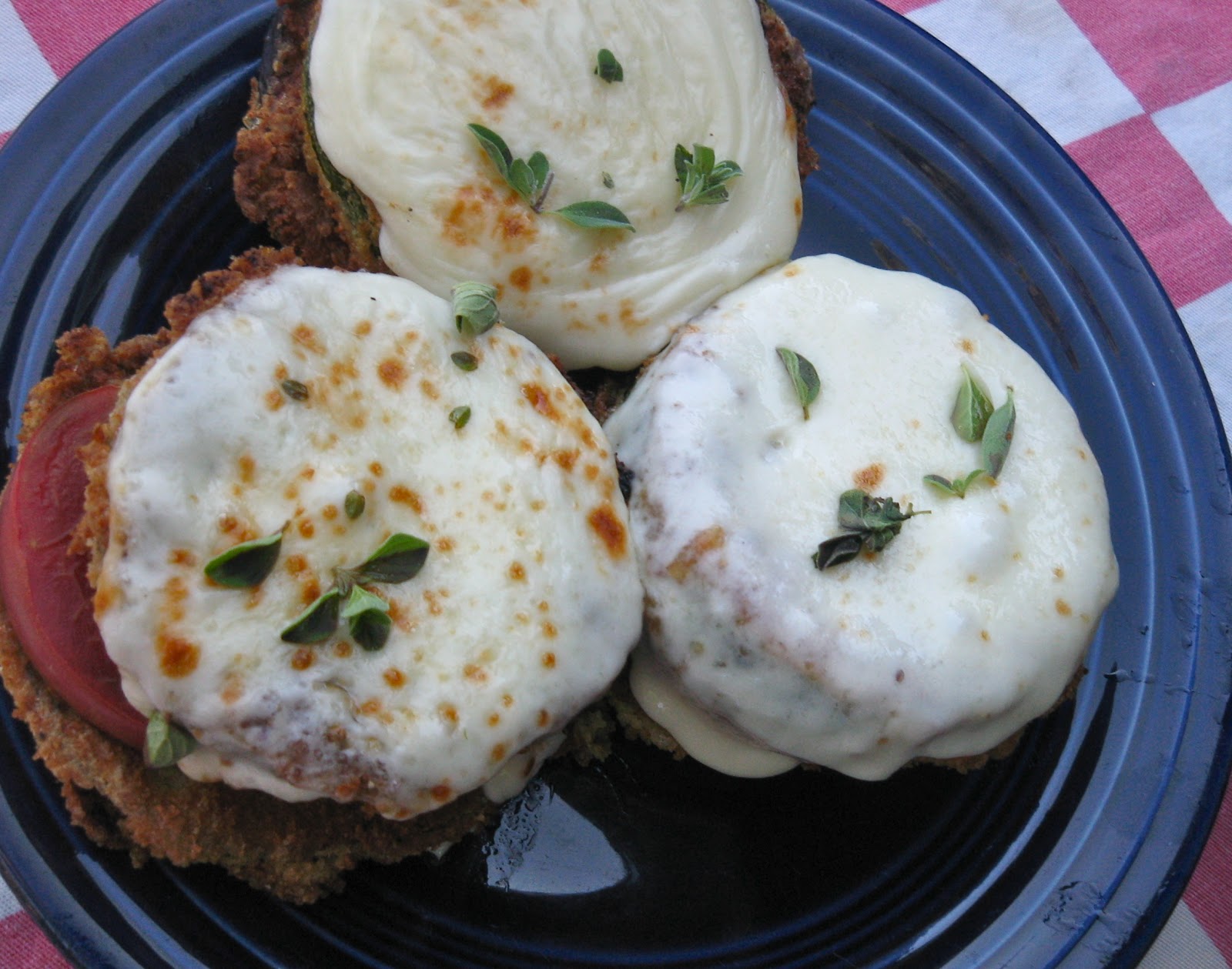 or try

Raw Tomato Stacks
recipe by Renee Loux Underkoffler


Serving Size : 6

Ingredients:

2 large tomatoes
1 1/4 cups raw macadamia nuts, soaked for 30 minutes — (whole raw cashews can be substituted)
1/4 cup pine nuts
1 small garlic clove
1/4 to 1/2 cup lemon juice
1 teaspoon lemon zest
2 Tablespoons extra-virgin olive oil
1 teaspoon sea salt
1/2 cup finely chopped parsley
1/4 cup finely chopped basil
1 ear corn
2 green onions, finely chopped to the top
1 Tablespoon dill
Cut the tomatoes across the width into half-inch slices. Drain the macadamia nuts. In a food processor, chop the macadamia nuts, pine nuts, and garlic into a fine meal. Add lemon juice, lemon zest, olive oil, and sea salt and blend until smooth. Add more lemon juice if necessary to blend into a smooth paste. Mix in parsley and basil gently or by hand. The chopped herbs should remain fairly intact so the spread does not turn green.
Cut the corn from the cob. Mix with green onions and dill.
Spread 3-4 Tbsp. of the spread on a slice of tomato. Generously top with fresh corn mixture, pressing it a bit into the spread.