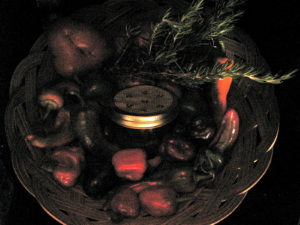 ½ c fine olive oil
1 2/3c chopped onions
1.5-1.75# sweet red peppers
1.5c red wine vinegar
1.5# ripe roma style plum tomato
1-1.5c sugar, to taste
1c golden raisins (I used currants)
2 med cloves garlic minced
1tsp ginger minced (or 1/4tsp dried)
½ tsp salt
1/8 tsp freshly ground pepper
1/4tsp all spice
2 sm dried hot red peppers (optional but I did use)
1. In large heavy saucepan heat olive oil and cool onions over medium low heat stirring often til onions are golden~about 10 minutes.
2. Blanch sweet red peppers in boiling water for 3 minutes, plunging into ice water to cool. Strip skins from peppers, quarter, core and seed them. Slice the quarters crosswise in to ¼ inch strips:you should have about 2c.
3. Add peppers to onions. Stir, cover and cook over low heat for 10 minutes. Add vinegar and boil uncovered until reduced by ½.
4. While peppers are cooking scald tomatoes, ice bath and remove skins. Cut up tomatoes, puree them in a food processor and then through a food mill or sieve. Measure 2c of the puree and reserve rest for another use.
5. Add tomatoes to pepper mixture: add 1c of sugar & raisins, garlic, ginger, salt, pepper, allspice & dried red peppers. Cover and cook over low heat until thick, about 1.5 hours. Stir occasionally and uncover toward end. Taste and adjust seasoning adding more sugar if you like. Remove dried peppers.
6. Ladle the condiment in hot, clean glass canning or storage jars. Let the relish cool, then cover tightly and store in the refrigerator.