Please read our message, review program changes, and please let us know if you will join us this year in the program and renew your membership to the farm. If you have any questions about the CSA, please contact Elizabeth at (805) 320 2311. For restaurants, and all other inquiries, please contact John Fonteyn at (805) 272 5337.
Hello from your farmers,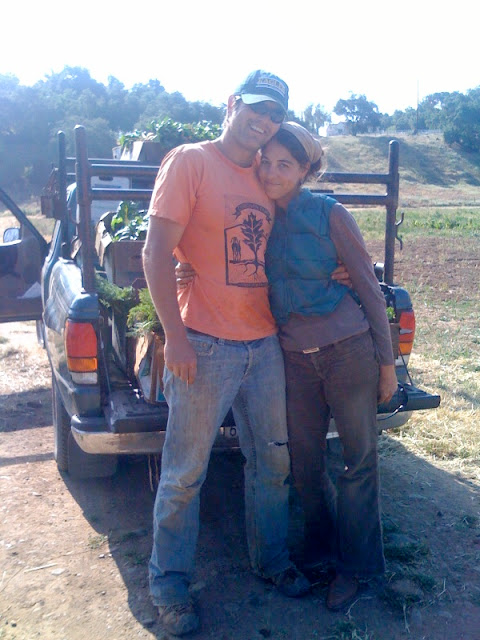 The new CSA season is coming the first week of March, and with it a few changes…very exciting.
Wintertime gave us a few gifts and the time to reflect on them. It gave us rain which we so needed, it is a relief to see the land carpeted in green again- the rain balances the ph in the soil too. It brought us hard freezes which, although it makes the plants grow slowly and we worried that our little transplants and lettuces would turn to mush in the night, it was actually a good thing because it allowed us to plant the winter crops that we all so love like broccoli, cabbage, arugula, radish, kales, and mustards. An act of incredible generosity happened for us at the farm, we've received an unbelievably donation to build a fence which will provide much needed deer protection (finally!!!!) and maybe (if nothing new shows up) we'll have better yields this year without the added animal pressure. Lastly, thanks to one of our amazing CSA members we have a brand new website in the works.
We know that eating seasonally takes commitment and imagination and you all are the all-too-rare breed that possess both." – Johnny
Winter made us get really humble and vulnerable, the gift in that was witnessing the CSA do what a CSA is meant to do- Stand by your farm, lend a helping hand, take the good with the bad. You took our winter doldrums in stride, there was a lot of love and support from you. It bolstered us, we feel even more passionate about the CSA program and invested in its goodness.
The past season also pushed us to recognize we want to continue with the program in a better way. Too often a box of vegetables started to feel like a mere monthly delivery service with a lot of apologies about quantity, variety, consistency. From time to time we supplemented with lettuce or kale from friends of other organic fields out of fear our members would quit us. This being fearful took the $ which we so dearly needed for operating costs out of our hands and away from our land. I've shopped Whole Foods, Vons, the local grocery stores and farmer's markets… I've seen the quality be less and prices more on produce. I suppose so often farmers expect very little return on their hard work, I learned we are offering an amazingly good product that that has incredible flavor, more interesting varieties, and at a competitive price. We should have had more faith in your desire to support a new generation of farmers and small farms. We want the CSA to devolve back into what a community supported agriculture program is- a farm community with members who are committed to a small family farm, great tasting fresh produce you cant find in commercial venues, community gatherings, seasonal eating, and shared risk in the uncertain business of agriculture. To get back to that concept we want to offer the following program:
---
The Produce:
One CSA season = 40 weeks of veggies
March 3rd – December 15th (no delivery on Thanksgiving)
We'll offer you the best of what we have, picked fresh day of delivery, and when possible a "free for the taking" of extras at the pack house for your special canning, preserving projects.
Add ons:
We will be offering Beacon Coffee delivered every other week. 20 bags of beans for $200. The variety of beans will change or you may order espresso only. John and Jen Wheir of Beacon Coffee provide the best, carefully sourced, perfectly roasted beans in this area. If you're a coffee drinker stop by Beacon and check it out.
Contact: Elizabeth
(805) 320 2311
Delivery Day
Thursdays (please note this change- it allows us to have face to face time with members at our farm-stand and offer additional produce options from the stand)
Locations:
Ventura residents:
Patagonia Farmer's Market starting at 3pm (235 W. Santa Clara Street)
or Beacon Coffee at 1:30pm (5777 Olivas Park Dr Unit R)
Come see us and pick up a few extra items from the sweet little farmer's market. Kate's bread, Watkin's meat are there.
If you pick up at Beacon grab a latte or an extra bag of beans for the weekend.
We offer home delivery for an extra delivery fee. $200 ($5 per drop)
Ojai residents:
Rio Gozo Farm's farmhouse at 1pm (inside the pack shed 1183 Shippee Lane)
or Rio Gozo's farm at Besant Hill School in Upper Ojai at 1pm (inside our red barn 8585 Ojai Santa Paula Rd)
Come see the beautiful fields weekly or visit our packhouse when you pick up your produce. We want to offer your more connection with the source.
We offer home delivery for an extra delivery fee. $200 ($5 per drop)
Membership Fees
We're asking for your whole seasonal commitment up front. Payment for the 40 week membership can be made:
all at once to Rio Gozo Farm $1200 (plus delivery fee or coffee if you elect those options)
or in four $300 installments (4 postdated checks of $300 on March 1, May 1, August 1 and October 1, plus 1/4 delivery fee or coffee ea if you elect those options).
Included in your membership- more communication, a new website with farm updates and links to recipes and post harvest handling of the veg. More interaction, Rio Gozo Farm will host a once a month farm potluck/ outdoor movie night on the 2nd Friday of each month.
We want to see you, know your families and have more of a farm/member community".
We hope you do too. As Johnny said so beautifully before, "We know that eating seasonally takes commitment and imagination and you all are the all too rare breed that possess both."
Trouble-shooting the CSA:
If you get something you can't use. Switch it out at our farm-stand at Patagonia when you pick up.
If you plan on being out of town for a portion of the csa season, consider getting a friend to pick up or share your share with a family member.
We want you to enjoy the best of the best of what is grown in our region.
Please let us know if you will join us this year in the program and renew your membership to the farm.