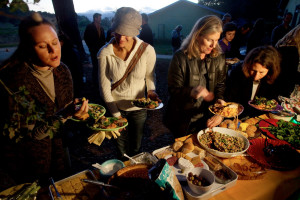 You've read about CSA, checked out the haul, conferred with your household, subscribed to the blog, bought a bigger refrigerator and a juicer, and become a fan of Rio Gozo Farm Ventura CSA on Facebook – you're ready to join the CSA!
Next step is to download a membership contract  and read the fine print.  You are about to embark on a relationship with your farmer and it will require mutual trust.
Print/download your contract, fill out and send to the address/email below.  We'll get back to you promptly; and we hope to be putting food on your table soon!
Rio Gozo Farm
1183 Shippee Lane
Ojai, CA 93023
email hidden; JavaScript is required
Contact Us
If you have any questions about the CSA, please contact Elizabeth at (805) 320 2311.
For restaurants, and all other inquiries, please contact John Fonteyn at (805) 272 5337.