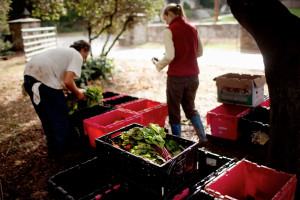 Subscribing to a CSA Share means that you share in a farm's weekly harvest and enjoy high quality produce from a local farm and farmers that you know.
Below you will find information about our schedule, a phone number to call for more information or to begin a subscription, and a list of frequently asked questions.
Schedule
Rio Gozo Farm CSA's program delivers:
Thursdays in Ojai and Ventura
Private delivery for groups may be arranged.
Call or email us for more information.
(805) 320-2311
riogozofarm(at)gmail(dot)com
---
CSA FAQ
What is a CSA Share?
You have literally purchased a share of our harvest. This means that you share in the farm's risks and rewards. Volume increases and decreases throughout the seasons, but we are working every day to provide a wide variety of high quality produce. Joining a CSA is the best choice you can make to support your local farmers, to eat green, and to ensure the continuation of sustainable agriculture in your area. You can learn more about CSAs and how they work here.
---
How much does it cost?
We offer seasonal memberships (40 weeks) giving our members the chance to experience all the variety a season can produce. CSA members pay for the season in advance. Call us for current membership rates.
---
How many people will a share feed?
Our share is designed to provide enough produce for a family of 3-4. For the true vegetable fanatics, it works for two. Plenty of our folks enjoy splitting a share with a friend. If you are going on vacation, think about donating your produce to a needy family or offering it to a friend.
---
How often will my family receive our share?
Your share will be dropped off weekly on the day and at the location you selected. We know how much you love our boxes, but we need to keep them on the farm, so please bring your own bags to transfer your produce home.
---
Where and when do I pick up my share?
Pick up days are: Thursdays in Ojai and downtown Ventura. You may receive your share delivered to your door for $5 delivery fee.
---
How do I manage all this gorgeous food?
You will enjoy your CSA share so much more if you set aside some time on your pick up day to wash your vegetables and store them properly. It may be intimidating at first to work through the whole bag, but if everything is prepped and ready to go, it really simplifies the routine.
---
Do I really need a salad spinner?
YES! It is helpful to stock a few other items in your kitchen as well – creativity, a spirit of adventure, and a good collection of cookbooks all come in handy.
---
What can I expect to receive?
We will post information about what to expect in your box on a weekly basis. In general, you should expect 9 – 12 items. Here is an idea of what we like to grow according to season: