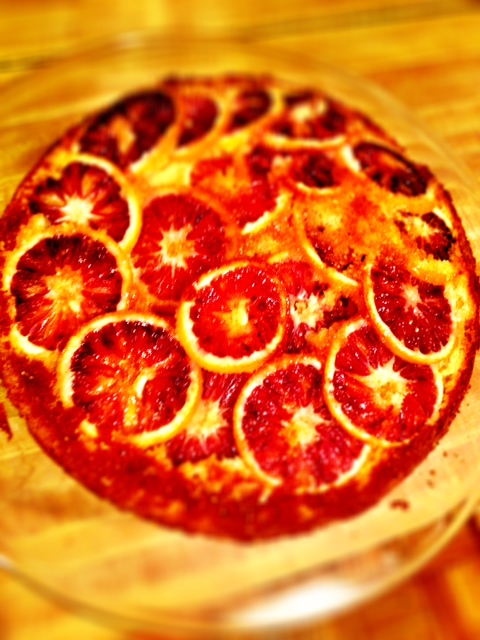 This is outrageous. (and adapted from epicurious).
You need:
For the Cake
7 tablespoons sugar, divided, plus 3/4 cup sugar
3 tablespoons water
(1 stick) butter, room temperature, divided
3 unpeeled small to medium blood oranges
3/4 cup plus 3 tablespoons unbleached all purpose flour
3 tablespoons polenta or coarse yellow cornmeal (preferably stone-ground)
1 1/2 teaspoons baking powder
1/4 teaspoon coarse kosher salt
3/4 teaspoon vanilla extract
2 large eggs, separated
6 tablespoons whole milk
Whipped crème fraîche:
1 cup chilled crème fraîche
2 tablespoons sugar
Heat your oven to 350. I know, it's hot out, do it anyway. Get a 10 inch oven safe skillet, put 6 tablespoons of sugar and 3 tablespoons water up in there, mix around over medium heat until sugar is dissolved, then boil and swish around until sugar is carmelized – a light amber – don't get too dark, this isn't Jersey Shore. Remove from heat, and whisk 2 tablespoons of butter in that caramel. Set it aside.
Cut your orange ends off, then slice thinly. Arrange orange slices in a pretty pattern, overlapping over the caramel. Channel your inner kaleidescope.
Whisk flour, polenta, baking powder, and coarse kosher salt in medium bowl. Then beat 3/4 cup sugar, remaining 6 tablespoons room-temperature butter, and vanilla in another medium bowl until light and fluffy. Add egg yolks 1 at a time, beating well after each addition. Add flour mixture in 3 additions alternately with milk in 2 additions, beating batter until it submits to your obvious authority.
Clean your beating utensils up, then beat egg whites in large bowl until soft peaks form. Add remaining 1 tablespoon sugar and beat until stiff but not dry like English humor. Fold 1/3 of egg whites into batter to lighten, then fold in remaining egg whites in 2 additions. Drop batter by large spoonfuls atop orange slices in skillet, then spread evenly.
Bake cake until fork, finger, or other elongated body part inserted into center comes out clean, about 45 minutes. Cool cake in skillet 10 minutes. Run small knife around cake to loosen. Put a plate on top, then, being careful not to burn yourself, because you are a smart person, invert the skillet onto the plate. Rearrange your messy orange slices. Then let cool to room temp.
Make you some creme fraiche topping by whipping those last two ingredients together, and Boom Time.